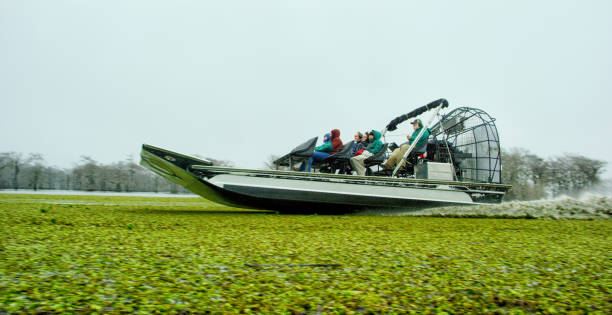 If you're visiting Florida, or even if you live here, you need to experience an airboat tour. An airboat tour is your way of getting as close as possible to the amazing nature found in Florida. 
The captains at Swamp Monster Airboat Tours will know exactly where to go in order to get you in front of the action. You'll see a number of different amazing occurrences here in the Florida Everglades.
The Florida Everglades is an expansive yet shallow area that covers a majority of the southern panhandle. You can't find the Everglades anywhere else in the world, which is what makes taking a tour here absolutely necessary. You'll see things you would never dream of seeing anywhere else. Swamp Monster Airboat Tours wants to help break down all the amazing adventures that come with an airboat tour of the Florida Everglades. 
See Exotic Wildlife
If you love nature and wildlife, then you're going to fall in love with the Florida Everglades. Here, you will see tons of different wildlife that you can't find anywhere else. Bird spotting is a regular activity in the Everglades with over 360 different species of birds.
If you are lucky you can even spot the elusive Florida Panther, which was once almost extinct with only 70 left in the entire world. The number of panthers has now grown to over 230 and they can only be found here in the Florida Everglades.
Alligators and crocodiles, the staple of the Everglades, can be spotted throughout the Everglades. If you've never seen an alligator up close before, this is the best way to do it. The Everglades is also one of the only places in the world where you can find both a crocodile and an alligator in the same place.
The Florida Everglades also has over 27 different species of snakes slithering around. Some are native to the park while others are invasive and have to be removed. 
Get Everglades Facts From Professional Captains
All of the captains at Swamp Monster Airboat Tours are professionally trained and have spent the majority of their life in the swampy Everglades. They'll be able to guide you to exactly what you want to see. They'll be able to answer any questions you have and give you facts that you may have never thought about before. 
Having an experienced captain means you'll be able to spot wildlife that you would normally miss. 
Experience The Speed of Airboats
If you have never been on an airboat before then you're going to love these tours. Airboats are different from your typical boat. They have a large propeller on the back that is used as the engine. The immense wind that is created by the propeller is used to thrust the vessel forward. Airboats are the only way to travel through the Everglades since it is so shallow and has tons of different weeds and plants in the water. These boats seamlessly glide over the surface of the water and can get almost anywhere in the Everglades.
See the Florida Everglades Up Close
If you have never been to the Florida Everglades, then an airboat tour is calling your name. Not only is this an adrenaline-pumping time, but it's also an educational one that everyone can appreciate. You'll see and hear things that you never thought possible. If you're ready for a private airboat tour of the Florida Everglades, head over to our booking page today. 
Back to Blogs