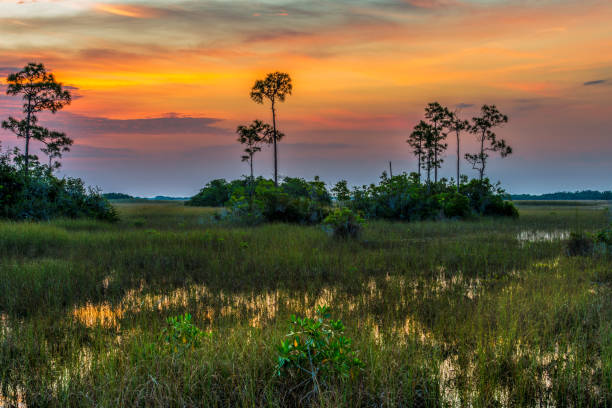 5 Interesting Facts About The Florida Everglades
The Florida Everglades is a true wonder of nature that can only be found right here in South Florida. This area is a blending of different ecosystems that are sustained by the different animals that live there. You can see plenty of different plant and animal life in this area and that's what makes exploring it one of the most fun and adventurous things you can do. If you want to truly explore this area and see what it has to offer, Swamp Monster Airboat Tours can do just that. We offer private airboat tours of this incredible place and we know you'll love your time here. 
To help you understand how incredible this place is, we wanted to provide you with 5 of the most interesting facts about this oasis of nature. 
The Everglades Started as a River
Many people refer to the Florida Everglades as a swamp, which it technically is, but it all started as a river. The Everglades start at the Kissimmee river in Orlando which then flows into Lake Okeechobee. Since this lake is shallow, it floods in the wet season creating a river that is 50 miles wide and over 100 miles long.
The Everglades Used To Be 2 Times Larger
Long ago, water consumed most of South Florida, with water flooding into the seas. Early settlers thought the area would be good farming land and would begin to drain water from the Everglades, forming canals and other helpful waterways. 
The Florida Everglades are Over 4,000 years old
For millions of years, the state of Florida was a shallow sea. It had a base of sedimentary and volcanic rocks that covered another layer of sedimentary rock. This area would become dry land and wetland as the sea would rise and fall. The rising water would erode limestone from below and the acids from rain would erode limestone from above. These rivers eventually allow fresh water to flow in and create the massive wetlands that we know today.
The Everglades Only Have 2 True Seasons
The weather conditions in the Everglades don't change very often. The difference between winter and summer weather is only about 10 to 14 degrees Fahrenheit. The changing seasons here depend on the water levels. The Everglades have both a wet season and a dry season. During the wet season, there can be 60 inches of rainfall. The dry season occurs from December to April and during this time, everything becomes extremely dry.
There are Several Different Ecosystems
The Florida Everglades contains a number of different ecosystems. 
Sloughs: Deep marshy habitats. You'll see rivers about three feet deep.

Freshwater Swamps: These areas have large cypress trees and air plants.

Mangrove Forests: You'll see mangroves growing along the shore and they make for great birthing places for fish and other sea creatures. 

Pineland Forests: These forests grow in dry limestone. You'll find many slashing pines and palm trees as well. 
Come See The Florida Everglades Up Close
As you can see, The Florida Everglades has an amazing variety of nature and history. Seeing this incredible area in person is one of the best ways to get in touch with nature around you. Swamp Monster Airboat Tour can provide you with the best private airboat tour in all of South Florida. Visit our contact page if you're ready to set off on an amazing adventure. 
Back to Blogs